2015
December 27: Celebration for Prof. Hayashi's inagulation as a member of the Club of Rome and Joint year-end party
Joint year-end party was organized together with Groud Design Lab (Hayashi-Kato-S.Nakamura Lab). It was also a celebration party for Prof. Yoshitsugu Hayashi who was inagulated as a member of the Club of Rome this year. Since it was the last opportunity for us to have such a year-end party before Prof. Hayashi's retirement, the party came alive with many guests who graduated Hayashi-Kato lab as well as our lab. Thank you so much!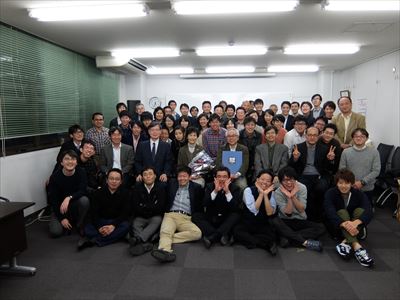 Have a good new year!!
December 25: Year-end presentation with Hayashi-Kato-Nakamura Lab.
Year-end presentation was held together with Hayashi-Kato-S.Nakamura Laboratory. Mr. Mashima (M2), Mr. Kato (B4) and Mr. Wanibe (B4) from our lab presented the research flamework and progress of their Master's/Bachelor thesis and received many comments and advices.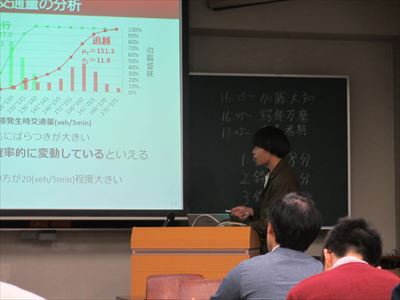 October 31 The 15th Nakamura Cup
The annual Golf tournament "Nakamura Cup" was held by the students, staffs and alumni of our lab. Since this was the fifteenth anniversary, we also enjoyed playing a quiz game about the history of "Nakamura Cup".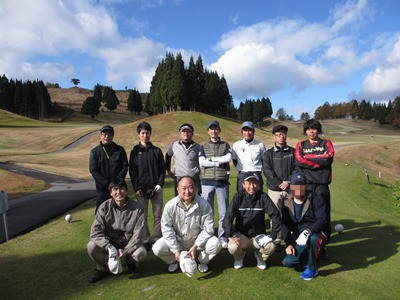 It was sunny but chilly...!!
October 11~16: International Doctoral Seminar @Darmstadt and Kleinwalsertal
The 11th International Doctoral Seminar (IDS) was held with four institutes on traffic and transport of five universities: Technische Universitaet Darmstadt (Germany), Nagoya University (Japan), Tongji University (China), Indian Institute of Technology Kharagpur (India), and Vietnamese-German University (Vietnam). We discussed the research topics from every participant intensively, and made technical visits for the on-going project related to transport in Stuttgart and Karlsruhe.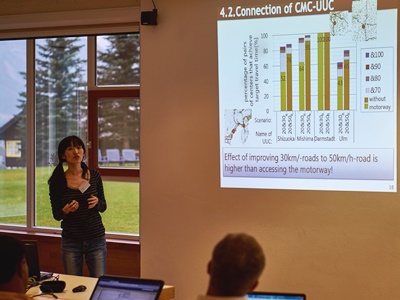 Looking forward to exchanging ideas each other every year
October 6~8: International Conference Road Safety and Simulation (RSS) 2015
Ms. Zhang attended the International Conference Road Safety and Simulation (RSS) held in Orlando, Florida, USA. For the title of their presentation, please refer to this page.

Welcome to our poster!
September 25: Mid-term Examinations of Master Course
Mid-term Examinations of Master Course students was done together with Prof. Morikawa, Prof. T.Yamamoto and Assoc. Prof. Miwa's Laboratory (NUTREND) and Assoc. Prof. Kato's Laboratory. Mr. Mashima (M2) from our lab and other M2 students made presentations and discussed on their research plans and progress.
September 17: Joint Mid-term Presentation with Hayashi-Kato-Nakamura Lab.
Joint Mid-term Presentation was held with Ground Design Laboratory chaired by Prof. Y. Hayashi, Assoc. Prof. H. Kato and Lecturer S. Nakamura. Our members, Mr. Mashima (M2), Mr. Kato (B4) and Mr. Wanibe (B4), made presentations on their research topics and received significant comments and advises from attendees.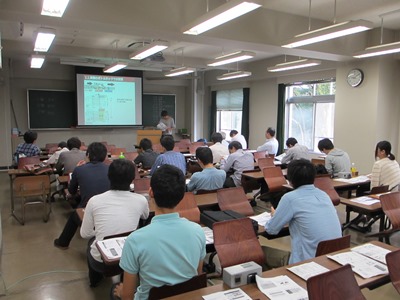 We'll do our best for our theses!
September 11~14: The 11th EASTS Conference @Cebu, Philippines
The 11the International Conference of Eastern Asia Society for Transportation Studies (EASTS) was held in Cebu, Philippines. Dr. Kang, Mr. Watanabe and Ms. Zhang made poster presentations and exchanged fruiteful ideas with various participants from countries in Asia. For the titles of their presentations, please refer to this page.
In addition, we were so glad to see several alumnis of our laboratory joining this conference actively and updated the current condition each other.

with co-authors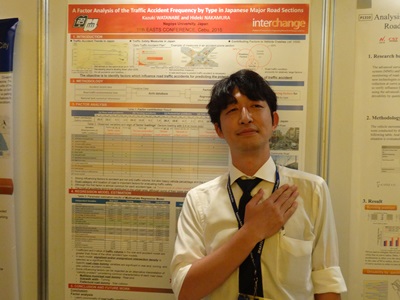 Welcome to my poster!!
September 6~8: Summer Seminar in Toyama
The summer seminar was organized. We visited Krobe-Dam, LRT (Light Rail Transit) and Hokuriku-Shinkansen (high-speed rail) in Toyama-city, Shiraka village (World Heritage), and some places, which told us a piece of the history of civil engineering in Japan as well as the present and future. You can see more pictures in this page.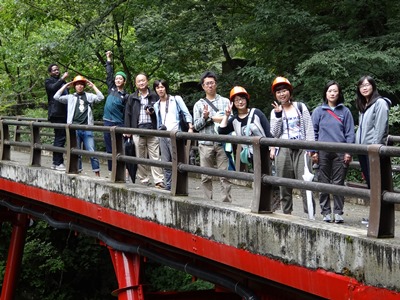 Japanese Civil Engineers were so cool!!
August 31~September 1: The 35th Conference of Japan Society of Traffic Engineers (JSTE)
The 35th Conference of Japan Society of Traffic Engineers was held at Surugadai-Campus, Nihon University in Tokyo. Mr. Watanabe and Ms. Zhang made presentations on their research progress. Titles of their presentations are listed in this page (in Japanese). It was our honor that the presentation of Mr. Watanabe and Prof. Nakamura got an award in this conference. The information of their award is listed here (in Japanese).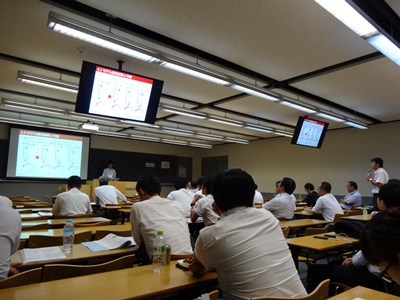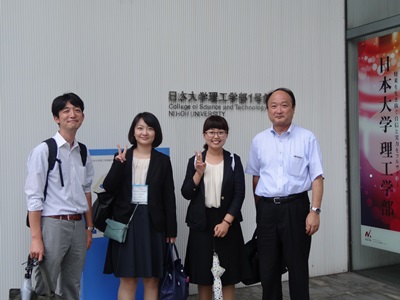 Smiles after their good jobs!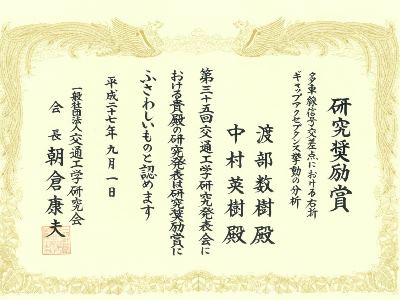 Conglatulation for the award!
June 18: Lecture by Dr. Nonaka (Highway Panning Inc.)
As a part of the course of "Project in Civil Engineering A", Prof. Nakamura invited Dr. Nonaka, the Exective Managing Director in Highway Planning Inc. to give a lecture.
His lecture was titled "Progress and Prospect of Road Geometric Design Technology", which introduced very comprehensive contents on the history and methods of designing road (especially, expressway) network in Japan.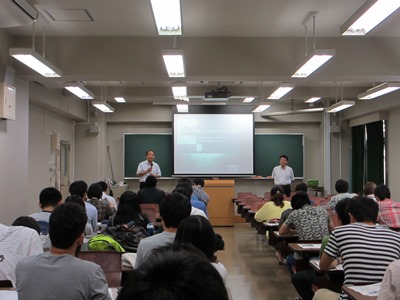 June 7~8: JSCE 51st IP Conference @Kyushu University
The Conference on Infrastructure Planning and Management by Japan Society of Civil Engineers (JSCE) was held in Ito Campus, Kyushu University.
Prof. Nakamura, Assist. Prof. Goto and Mr. Mashima(M2) made presentations and had active discussions. Title of their presentations are listed here (in Japanese).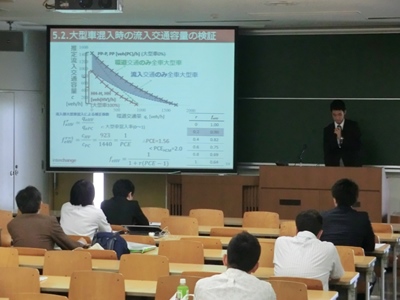 The first presentation at the conference for his life!!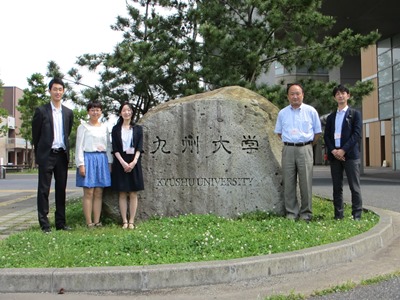 Kyushu Univ.
April 10: IATSS Research Project Report Meeting
The International Association of Traffic SAfety Sciences (IATSS) held its Research Project Report Meeting in Tokyo. Prof. Nakamura made a report on the research project of roundabout implementation in Japan as the project leader. Our research fellow, Ms. Kang also worked for this project as one of the project members. Besides, the research project on the traffic safety analysis of Kagawa-Prefecture, in which Prof. Nakamura and Mr. Watanabe (research fellow) were involved, was introduced.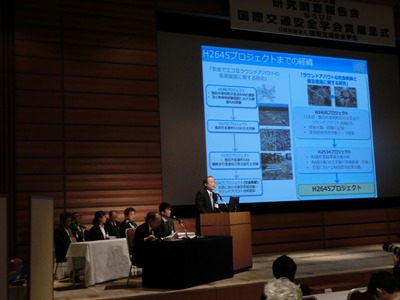 Prof. Nakamura's report
April 4: Cherry-Brossom Viewing Party
Our lab held the annual Cerry-Brossom Viewing Party, under fully bloomed cherry-brossom trees at Heiwa-Park. In the party, we welcomed two new students joined our lab from this April and enjoyed talking with them. Not only current lab memebers but also some alumni and families got together and spent a plecious time.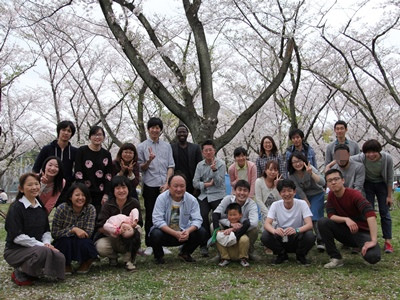 Big group of "interchange"!!
March 25: Nagoya University Graduation Ceremony
Graduation ceremoniy was held in Nagoya University. In the night, we had the big graduation party with all faculty members of Civil Engineering. We enjoyed the last time to spend together, by watching the video letters from the graduating students. After that, our lab organized the farewel party for Mr. Nagashima, and some alumni kindly joined.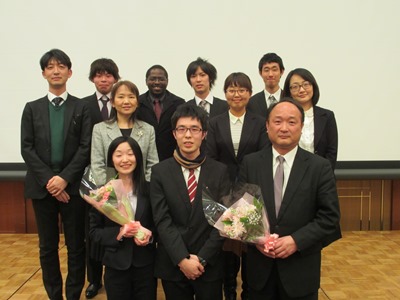 Congraturations!!
February 10: Theses Presentations
The final presentations of undergraduate students were held by the Department of Civil Engineering, Nagoya University. Mr. Nagashima from our lab presented his research results there. The title of his thesis is listed in this page.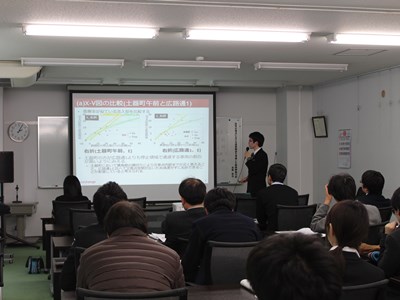 Comparison of stop/go decision at two signalized intersections...
January 11~15: 94th TRB Annual Meeting
94th Annual Meeting of Transportation Research Board (TRB) was held in Washington D.C., United States. Dr. Kang from our lab presented her study on the entry capacity at roundabouts. Title of her presentation is listed this page.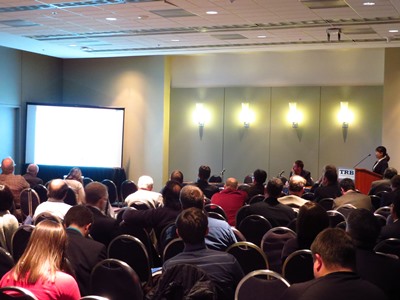 New venue from this year!
January 1:Happy New Year
Happy New Year!! We sincerely wish happiness, pleasure and success for the whole world.