2011
December 26: Midterm presentation with Hayashi-Kato Lab. in winter
Midterm presentation was held together with Hayashi-Kato Laboratory, as a semi-annual event.
Three students from our lab presented their research framework and progress, and received some significant comments from professors.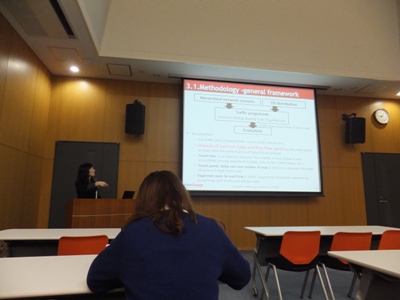 December 22: Year-end party & the farewell party for Dr. Wael Alhajyaseen
The year-end party was held. Everyone looked back at 2011 by chatting with friends. Then all of us made a short speech about his/her memory this year and the what he/she would like to achieve next year.
This night was also the last night we could spend together with Dr. Wael Alhajyaseen, who will go back to his home country, Palestine in the end of this month. A special movie was gifted by students, to thank all his efforts in our lab since 2006. Many previous graduates kindly joined this party for farewell and celebrated his new start.

Thank you for all people worked and supported our lab this year.
We wish you a Happy New Year!!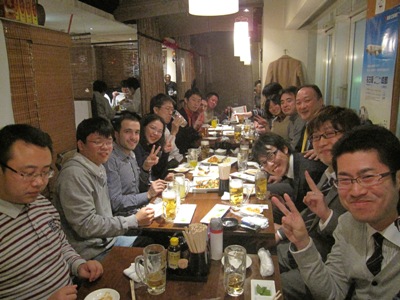 "Let's forget everything!"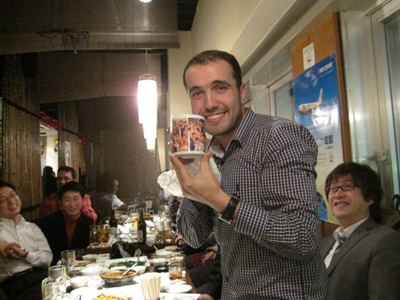 Please don't forget us!!

December 12~16:International Doctoral Seminar 2011 in HCMC
The International Doctoral Seminar was held in Ho Chi Minh City, Vietnam by traffic and transport institutes of five universities: Technische Universitaet Darmstadt (Germany), Nagoya University (Japan), Tongji University (China), Indian Institute of Technology Kharagpur (India), and University of Transport and Communication (Vietnam).
Prof.Nakamura together with four doctoral students in our lab (Dang, Wu, Chen and Chu) joined the seminar.
Recent research activities by INTERCHANGE was introduced by Prof. Nakamura from three levels of approaches: road network, link/corridor and node/junction. Detailed explanation is given to hierarchical network design and simulation model for signalized intersection safety assessment, which aroused the interest of all participants.
The doctoral students also presented their current research progress and obtained valuable comments on and evaluations of their work.
This seminar creates an good opportunity for early-stage researchers who are doing research in the area of traffic and transport to gain experience in international scientific exchange, to learn from each other, and to benefit from comments of experienced researchers.
Students' impressions are here.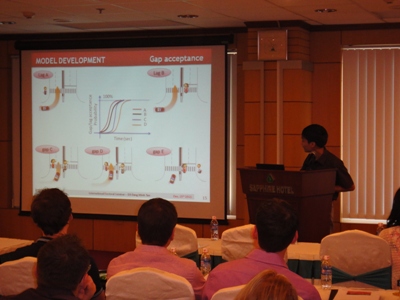 I'm coming back!! with a great presentation??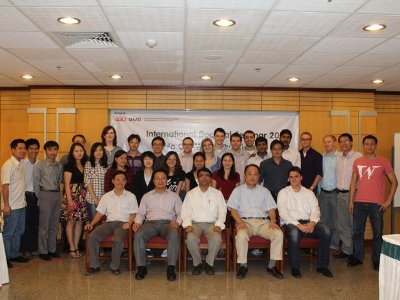 Let's meet again!
December 7: JSTE 5th Symposium
「Desired Way of Road Planning and Design~Now is the time to consider the function of roads and their performance~」
The 5th symposium of Japan Society of Traffic Engineers was held in Hiroshima.
With more than 100 participants, several professors and experts gave speeches and panel discussion on the current state, problems and desired way of road network planning and design, by showing some examples in Chugoku region.
Prof. Nakamura also gave a speech titled " The significance of road network hierarchy and performance-based road planning and design".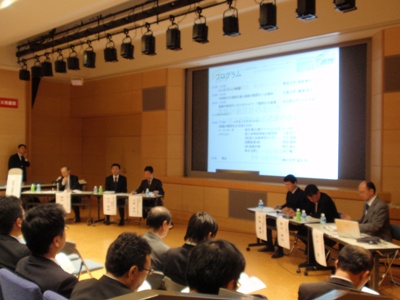 A panel discussion
November25~27: JSCE 44th IP Conference @Gifu University
JSCE IP Conference was held at Gifu University.
Ms.Goto (M2) presented her current research topic and got lots of valuable comments from many researchers. Title of her paper is shown here.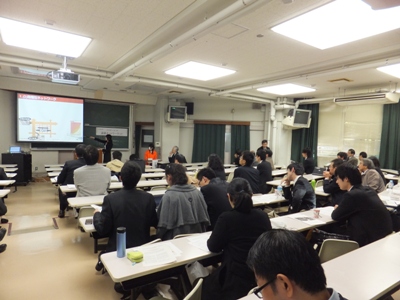 This is why we need a hieratical network...
November 14~17: WCTRS SIG15 meeting
The first meeting of WCTRS Special Interest Group (SIG)15 "Urban traffic Control" was held at Nagoya University from November 14 to 17, 2011.
Participants were from Germany, Austria, China, Australia, India, and Korea.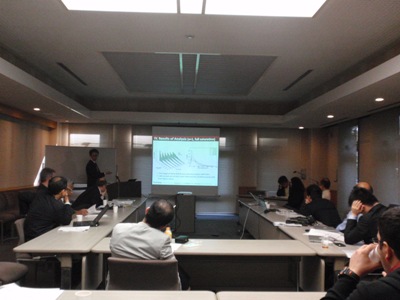 Mr. Chen also presented at the SIG Workshop
October 2: The 30th Anniversary Memorial Event of Hayashi-Kato Lab.
A memorial event for the 30th anniversary of Hayashi-Kato Lab. took place. All members of Nakamura-Lab attended it and Dr. Koji Suzuki of Nagoya Institute of Technology, a former member of Nakamura-Lab, gave a presentation.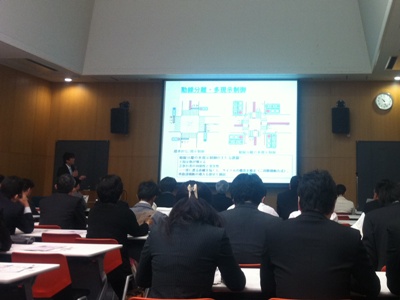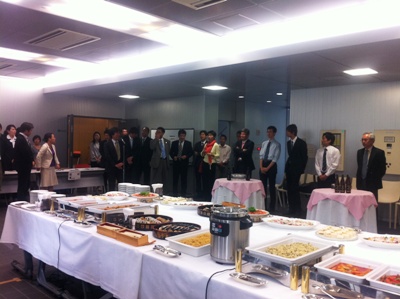 buffet party

October 1: The 50th Anniversary Memorial Event of Department of Civil Engineering, Nagoya University
At Toyota Auditorium, a series of memorial activities was held for the 50th anniversary of Department of Civil Engineering. Prof. Nakamura moderated the memorial exchange party and Ms. Goto made an excellent speech as a representative of students.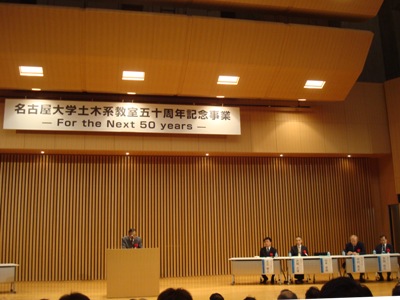 memorial ceremony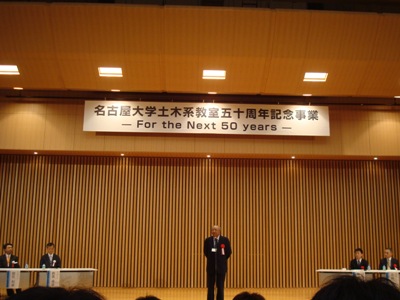 memorial ceremony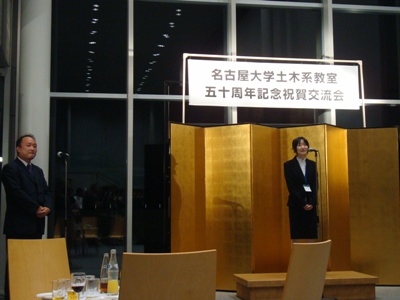 Prof. Nakamura and Ms. Goto at the party
September 1-3: Summer Seminar in Suzuka
The Summer Seminar 2011 was held in Suzuka, Mie Prefecture. Research topics mainly for B4, M2, and doctoral students were intensively discussed. We also visited Suzuka Circuit, a motorsport race track.
Students activities are here (Japanese).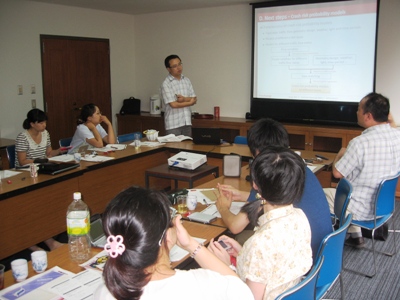 Presentation and discussion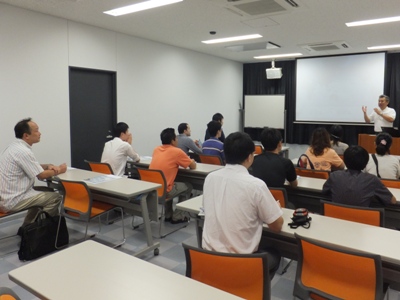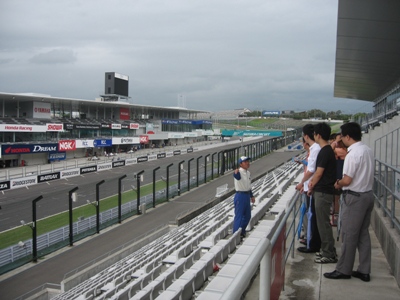 Suzuka Circuit
August 26: JSCE the 13th International Summer Symposium
The 13th International Summer Symposium was held in Kyoto University, by JSTE.
Mr. Wu, a D2 student from our lab presented his current research about traffic accidents on urban expressway, and selected as the best presentation in "Planning and Design" session.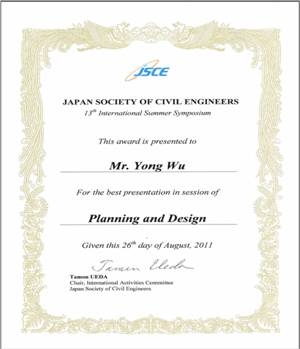 Congratulation!!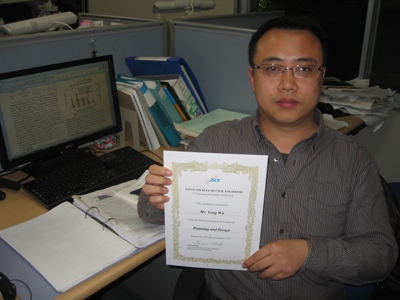 Thank you so much!
August 8:Midterm presentation with Hayashi-Kato Lab. in Summer
Midterm seminar was held with Hayashi-Kato Laboratory and six students of our Lab. presented their research objective and current progress. Students appreciate valuable comments and suggestions from Prof. Hayashi and Associate Prof. Kato for their future works.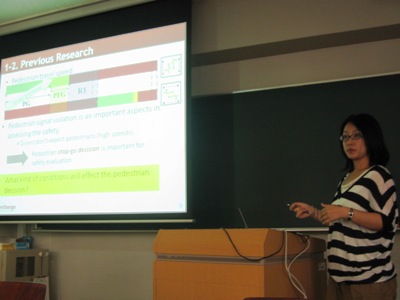 Therefore the application is...
June 15 Nagoya University Summer Intensive Program(NUSIP2011)
In order to facilitate academic exchanges with overseas universities, a program named Nagoya University Summer Intensive Program (NUSIP2011) has been carried out by the School of Engineering, Nagoya University. For that also Prof. Nakamura gave a lecture on traffic flow analysis to the international students. In addition, he introduced a traffic simulation model developed by our laboratory.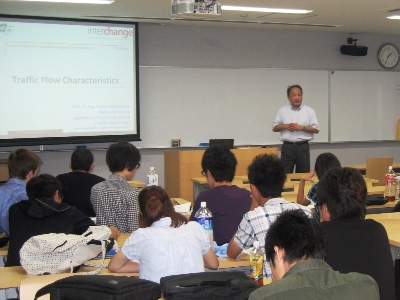 Prof. Nakamura giving a lecture to international students
June 28 - July 1 The TRB 6th International Symposium on Highway Capacity and Quality of Service in Stockholm, Sweden
At the TRB 6th International Symposium on Highway Capacity and Quality of Service, held in Stockholm, Sweden, Prof. Nakamura presented a country report from Japan on the state of capacity and quality of service research and practice. Wael and Chen also presented their papers.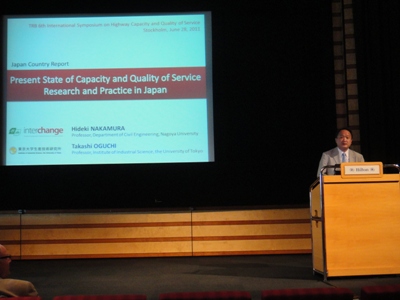 June 20-23: The 9th EASTS Conference 2011 in Jeju, Korea
8 papers were presented from our lab. at the 9th EASTS Conference held in Jeju, Korea. Wael and Chen got the "Outstanding poster presentation award" and "Outstanding presentation award", respectively. It was a really nice opportunity to enhance their view of research through the discussion and communication with other researchers and engineers from various countries. Titles of their papers are listed in the page of "pulications".

in front of the venue of the conference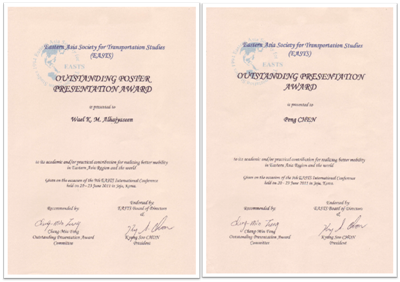 Congratulations!!
June 15:Mid-term examinations(D2)
Mid-term examination was held. Mr. Dang, Mr. Chen and Mr. Wu presented their works.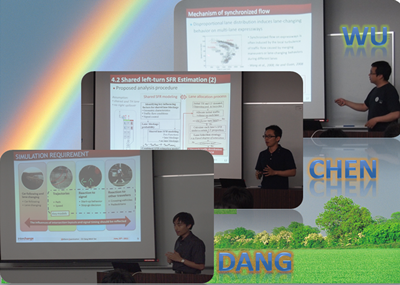 June 9:Lecture by Dr. Nonaka (Highway Panning Inc.)
As a part of the course of "Project in Civil Engineering A", Dr. Nonaka, who is a manager of technical department in Highway Planning Inc., was invited by Prof. Nakamura and gave us a lecture.
The lecture was titled "The progress and vista of the road design technology", which presented lots of attractive contents, for example, the history of the road, clothoid curve, and Ethics of Engineers.
May 28-29:JSCE IP Conference @Tsukuba University
JSCE IP Conference was held in Tsukuba University.
Five students made presentations and got lots of precious comments. It was a really nice opportunity to enhance their view of research through the discussion and communication with other researchers and engineers.
Titles of their papers are listed in this page.What's more (in Japanese).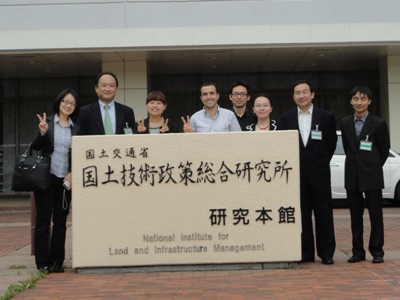 We visited NILIM(National Institute for Land and Infrastructure Management), too.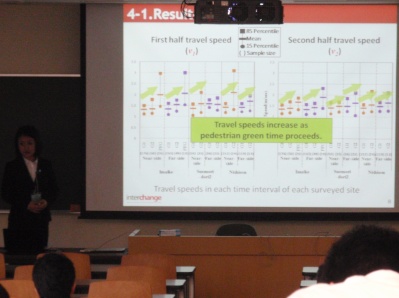 I will become the specialist of pedestrian study!!
May 25:Award of JSCE Chubu-branch
Our former member, Mr. Iwakawa was awarded by JSCE Chubu-branch.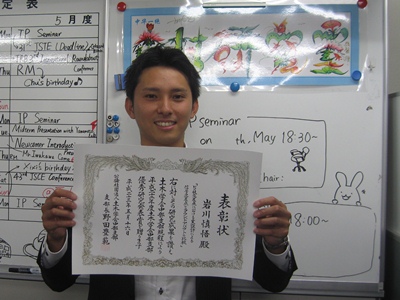 Congratulations!!
May 24:Presentations of New Members
Mr. Aierken, Mr. Ghasak and Mr. Lucas, who are new members. Everyone of them made a presentation about their own research and hometown.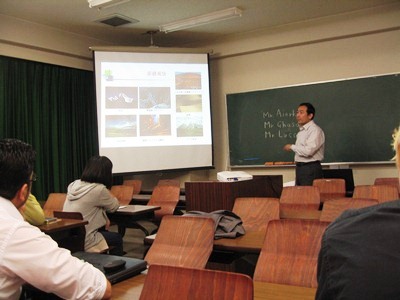 Mr. Aierken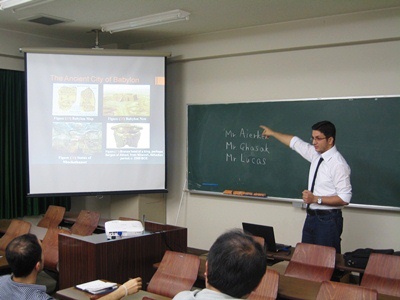 Ghasak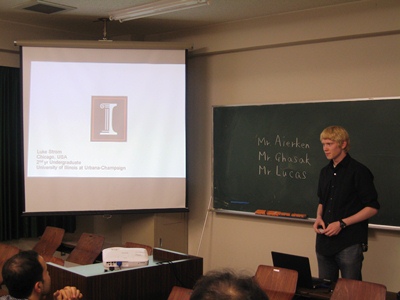 Lucas
May 24:Mid-term Examination of Master
Mid-term examination of Master was done together with Prof. Yamamoto, Associate Prof. Miwa and their laboratory members. M2 students reported their research plan and progress.
May 16~May 22: TRB International Roundabout Conference(Carmel)
TRB International Roundabout Conference was held in Carmel, American. On this conference, Prof. NAKAMURA presented the research results about roundabout in Japan. This conference were focused by some television stations and news papers. On a interview of local media, Prof. NAKAMURA expressed that he is concentrating on the promotion of roundabout in Japan.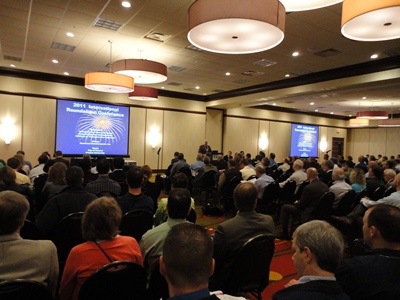 Scene of Conference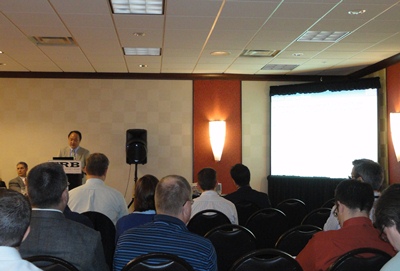 Prof. NAKAMURA Presentation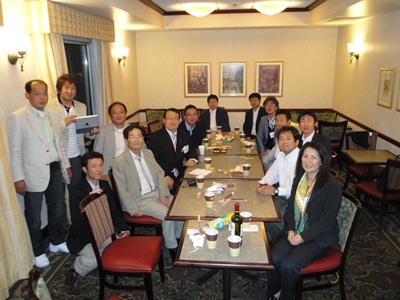 April 9:Cherry-Blossom Viewing Event
We went to Heiwa Park to see cherry blossom annually. Besides current members, some friends and guests also joined the event. We really enjoyed chatting like a big family in a sunny day. Thanks for everyone who kindly attend this event.
(click here(Japanese))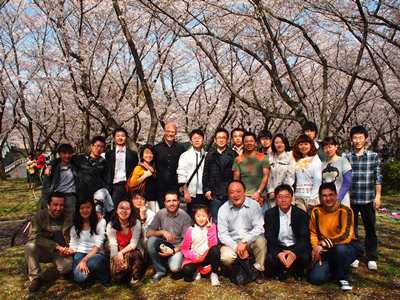 Good start of AY 2011!
March 25: Graduation and Certification Ceremonies
Graduation and Certification Ceremonies were held in Nagoya University. Two undergraduate and five master students students graduated. Congratulations!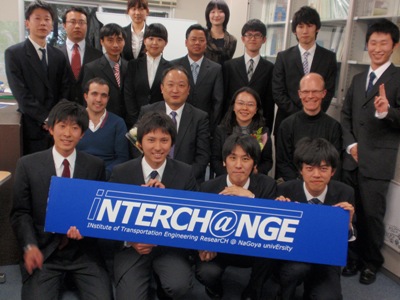 Wish all the best in your future!!
March 4: Annual JSCE-Chubu branch Conference @Chubu University
Annual JSCE-Chubu branch Conference was held at Chubu University. Our members, Mr. Hayakawa(M2), Mr. Iwakawa(M2), Ms. Zhang(M1), Mr. Kakimoto(B4), and Mr. Nakano attended and make presentations.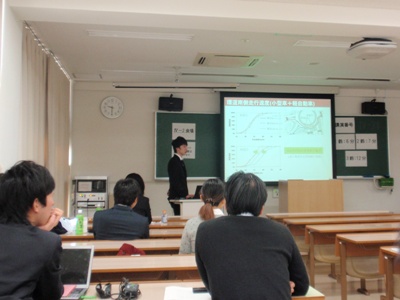 First time to present in conference...!!
February 19: Radio Program on Prof. Nakamura
In the FM radio program "FRONTEERS~Challenges for the future broadcasted on Saturday, February 19th, Prof. Nakamura was interviewed about his study history and challenges existing for the practical deployment of roudabouts in Japan..
The brief story of the program is uploaded on the TOKYO FM website (only in Japanese).
February 9~10 : Thesis Presentation of Master Students
The final presentations of master students were held and five students in our lab presented their study results. In particular, students who belong to NUGELP (Nagoya University Global Environmental Leadership Program) made their presentation in English. And they really did a good job.
Titles of their thesis are shown in this page.What's more (only in Japanese)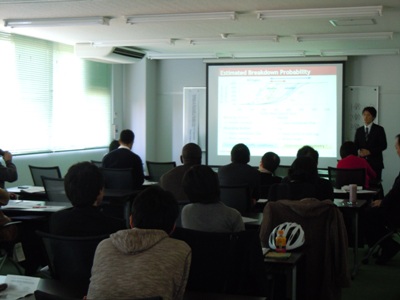 English presentation!!
February 8 : Thesis Presentation of Undergraduate Students
The final presentation of Mr. Kakimoto and Mr. Nakano were held and they presented their achievements.
Titles of their thesis are shown here.What's more (only in Japanese)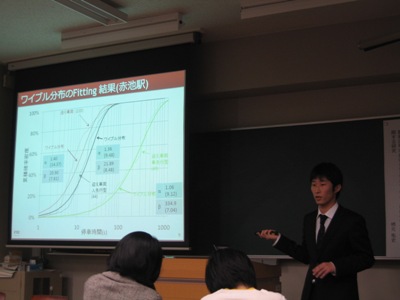 This weibull distribution is for…
January 23~27:90th TRB Annual Meeting
Prof. Nakamura, Dr. Alhajyaseen and Mr. Chen (D2) attended the Transportation Research Board 90th Annual Meeting in Washington DC, USA. To get more information about their presentations,please refer to this page. Student's impression is here.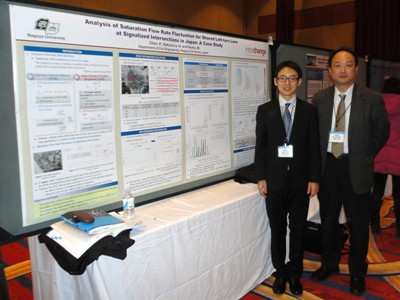 Debut in an international Conference!!
January 7:New Year and Welcome Party
We welcomed our new researcher, Dr. Axel Wolfermann from Germany and celebrated the New Year.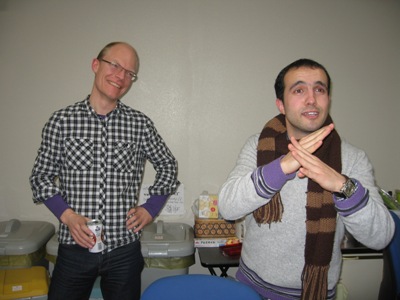 Two researchers in our lab!!
January 1:Happy New Year
Happy New Year!! We sincerely wish happiness, pleasure and success for the whole world.